---
In The Wall non mancano i momenti in cui i Vermi appaiono sullo schermo o in parti del testo e, come già detto, fanno da metafora al degrado nel quale la mente di Pink era sprofondata a causa del muro.
Waiting for the worms è un altro di quei brani che va interpretato secondo il contesto: a parlare è ancora Pink nei panni del dittatore che continua a vivere la sua allucinazione totalitaria e razzista, con la differenza che, stavolta, questi ci lascia intravedere un pezzo di quell'umanità che col crollo psicotico di Comfortably Numb sembrava destinata a restare sepolta negli anfratti di una mente irrimediabilmente compromessa.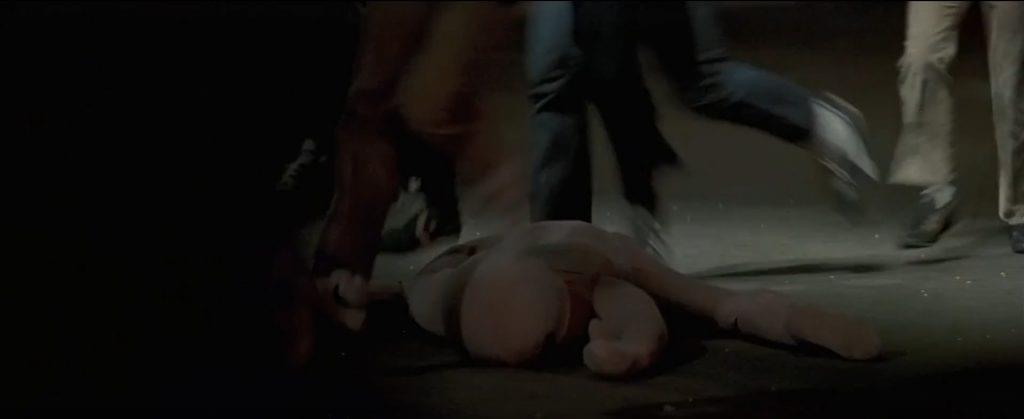 La bambola senza volto (e quindi privata della propria individualità) calpestata all'inizio della scena rappresenta proprio quell'io sotterrato che tenta ancora disperatamente di salire alla luce. Indubbiamente il sé fascista ha ancora il controllo sulla mente di Pink ma è chiaro che, nel profondo, l'uomo si senta sinceramente turbato per la sua trasformazione, e sono proprio le prime strofe della canzone ha darci contezza di questo.
---
Waiting for the worms
"Eins, zwei, drei, alle!"
Ooooh, you cannot reach me now
Ooooh, no matter how you try
Goodbye, cruel world, it's over
Walk on by.
Sitting in a bunker here behind my wall
Waiting for the worms to come.
In perfect isolation
here behind my wall
Waiting for the worms to come.
Will the audience convene at 1:15
outside Brixton Town Hall
where we will be going destroying
Waiting to cut out the deadwood.
Waiting to clean up the city.
Waiting to follow the worms.
Waiting to put on a black shirt.
Waiting to weed out the weaklings.
Waiting to smash in their windows
And kick in their doors.
Waiting for the final solution
To strengthen the strain.
Waiting to follow the worms.
Waiting to turn on the showers
And fire the ovens.
Waiting for the queens and the coons
and the reds and the jews.
Waiting to follow the worms.
Would you like to see Britannia
Rule again, my friend?
All you have to do is follow the worms.
Would you like to send our colored cousins
Home again, my friend?
All you need to do is follow the worms.
The Worms will convene at Brixton Bus Station. We'll be moving along at about 12 o'clock down Stockwell Road and then point and we'll start heading towards Abbot's Road and walk calmly with resistance. Leaving twelve minutes to three we'll be moving along Lambeth Road towards Vauxhall Bridge. Now when we get to the other side of Vauxhall Bridge we're in Westminster Borough area. It's quite possible we may encounter some jew boys all the way from four to five and take them back by the way we go. And they came out at mid Abbots place and we saw them killed. Millions of gay people screaming MURDER! MURDER! came all around. AND SHOOT!.Remember to make it in the highclock corner or all you are killed. Were in the door, NOW CLOSE THE DOOR! CLOSE THE DAMN DOOR! THE DOOR! THE DOOR! THE DOOR!
HAMER! HAMMER! HAMMER!
Stop!
Aspettando i vermi
Uno, due, tre, tutti insieme!
Non potete raggiungermi ora
Non importa quanto possiate provarci
Addio mondo crudele… e' finita
Passa oltre
Seduto nel bunker, qui dietro al mio muro
Aspettando che vengano i Vermi
In perfetto isolamento,
qui dietro al mio muro
Aspettando che vengano i Vermi
La folla si riunisca all'una e un quarto
fuori dal Municipio di Brixton
dove andremo a distruggere.
Aspettando di tagliare i rami secchi
Aspettando di ripulire la città
Aspettando di seguire i Vermi
Aspettando di indossare una camicia nera
Aspettando di sradicare i deboli
Aspettando di spaccare le loro finestre
E buttar giù a calci le loro porte
Aspettando la "soluzione finale"
Per rinforzare la razza
Aspettando di seguire i Vermi
Aspettando di aprire le docce
E accendere i forni
Aspettando i finocchi e i negri
E i rossi e gli ebrei
Aspettando di seguire i Vermi
Ti piacerebbe vedere la Britannia
Dominare ancora, amico mio?
Tutto ciò che devi fare è seguire i Vermi
Vorresti rispedire i nostri cugini di colore
A casa di nuovo, amico mio?
Tutto ciò che devi fare è seguire i Vermi
I Vermi si riuniranno davanti alla stazione degli autobus di Brixton, Cominceremo a muoverci alle 12 circa lungo Stockwell Road, poi ci muoveremo in direzione Abbot Road camminando tranquillamente ed opponendoci. A venti minuti alle tre percorreremo Lambeth Road verso il Vauxhall Bridge. Quando arriveremo dall'altra parte del Vauxhall Bridge ci troveremo nell'area del Westminster Borough. E' facile incontrare degli ebrei mentre andiamo là, due o tre che siano, li portiamo con noi. Sono usciti in piazza Abbots, li abbiamo visti morti. Milioni di gay urlano OMICIDIO! OMICIDIO! ci vengono addosso COLPITE Ricordatevi di farlo nell'angolo della torre dell'orologio o siete tutti morti. Siamo alla porta, Chiudete ORA la porta! Chiudete quella dannata porta! La porta! La porta! La porta!
Martello! Martello!
Basta
---
Simbolicamente Waiting for the Worms rappresenta la fase finale della follia nazista, quella in cui dalla semplice xenofobia (rappresentata da In the Flesh pt. 2) si è passati alla segregazione (Run like hell) per poi arrivare al proposito di distruggere le minoranze.
Qui i riferimenti ad Hitler ed al nazismo sono più evidenti rispetto alle precedenti canzoni: la "soluzione finale" è un chiaro riferimento al genocidio sistematico attuato dalla Germania nazista a danno degli ebrei europei ed il riferimento alle "docce" nonché ai "forni" fa immediatamente pensare alle brutalità commesse nei campi di concentramento.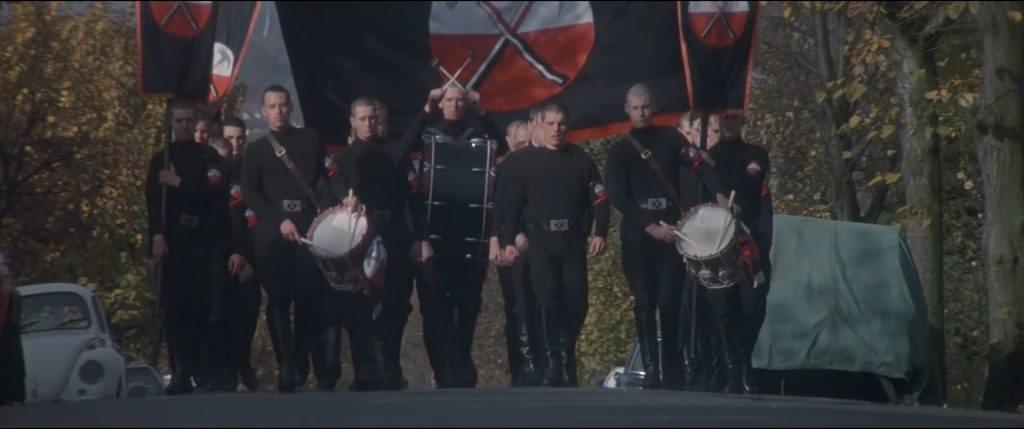 In tutta la canzone vengono "referenziati" anche altri dittatori e regimi oppressivi, uno fra tanti il gruppo di paramilitari fascisti di Benito Mussolini rappresentato dalle "camicie nere" che nel video sfilano lungo le strade di Londra con tanto di tamburi e bandiere.
La promessa di poter vedere "la Britannia dominare ancora" richiama la British Union of Fascist, un partito politico voluto da un ex laburista, Sir Oswald Mosley, fondato in Inghilterra nel 1932 che adottò l'ideologia fascista del leader italiano. Mentre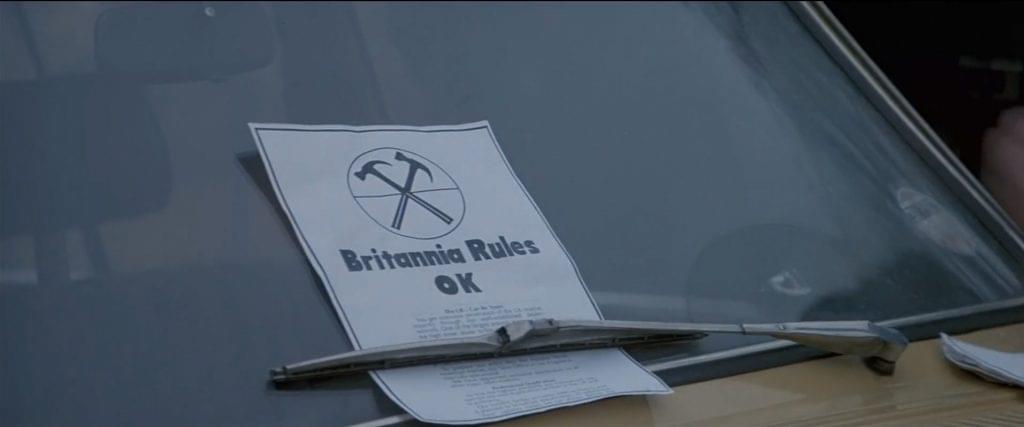 Anche se i richiami alla Seconda Guerra Mondiale sono piuttosto evidenti, Waiting for the Worms non è una canzone particolare su Hitler o Mussolini o Mosley o qualsivoglia dittatore, piuttosto vuole rappresentare quella forza universale di oppressione che ha sempre caratterizzato certa umanità dall'inizio dei tempi, quel nazionalismo estremo che vorrebbe la propria patria superiore a tutte le altre e che tutte le etnie diverse da quelle autoctone devono essere estirpate: vedi nel testo la frase "Vorresti rispedire i nostri cugini di colore a casa". In questo senso il martello è quella forza che fa si che le nazioni sorgano, mentre i vermi rappresentano il degrado che raggiunge l'umanità quando ci si abbandona a certune forme di intolleranza.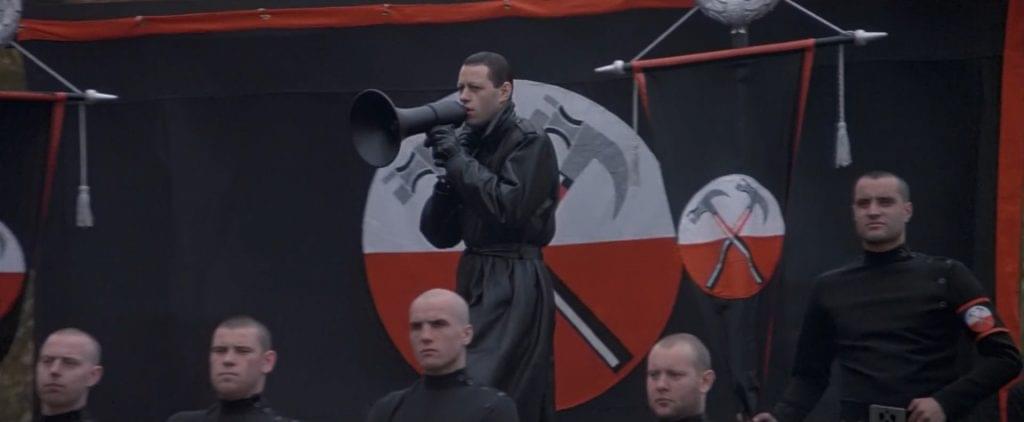 Il dittatore questa volta non si limita solo ad enunciare i suoi editti come in In the Flesh o Run like Hell, la sua intenzione questa volta è bussare alle porte di ogni britannico per portare il suo messaggio di paura ed isolamento. Per servire questo scopo, improvvisa un palco in mezzo alla strada e con l'aiuto di un megafono nero invita tutti i presenti alla "soluzione finale". E' interessante notare come la voce di Gilmour, calda e confortante, venga utilizzata a scopi propagandistici per dare voce alle promesse (un nuovo dominio per la "Britannia" e la cacciata dei "cugini di colore") che avrebbero dovuto convincere i britannici a seguire gli ideali razzisti del dittatore, una formula utilizzata molto spesso dai regimi totalitari per condizionare le masse ad assecondare l'odio di razza.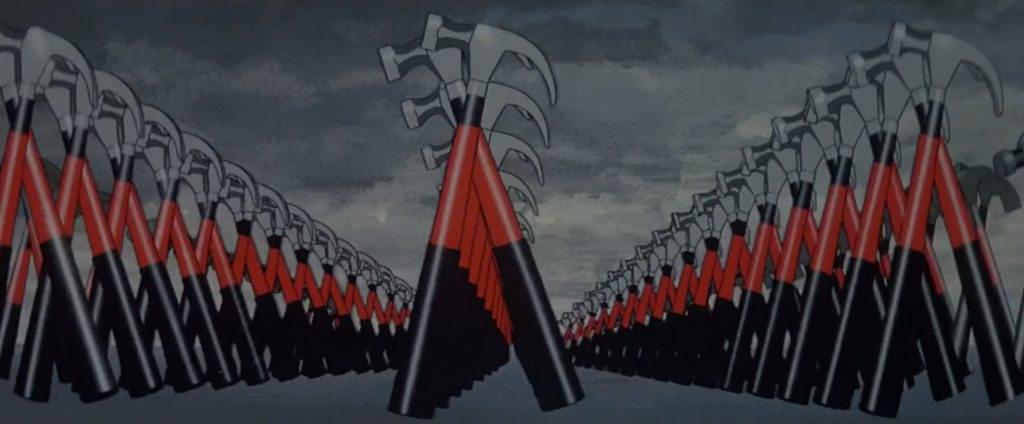 Per molti, la scena del film fa riferimento ad un fatto storico realmente accaduto e cioè la marcia pianificata da Oswald Mosley nell'ottobre del 1936 che avrebbe visto sfilare le camicie nere del suo BUF lungo la periferia Est di Londra, quartiere a maggioranza ebrea. La marcia non poté poi essere effettuata a causa della presenza massiccia di forze di polizia e soprattutto per gli oltre 300.000 antifascisti che si radunarono a Cable Street per bloccare il percorso dei manifestanti in un evento conosciuto come la Battaglia di Cable Street.
Curiosità
Toni Tennille di The Captain & Tennille e Bruce Johnston dei The Beach Boys hanno contribuito ai cori di Waiting for the worms

A circa un minuto del video che vi proponiamo in basso, si vede chiaramente una ripresa che racconta una violenta rissa scoppiata nello stadio di Watford per la Coppa Europea (da notare le sciarpe dei tifosi)… il filmato è la ricostruzione di fatti realmente accaduti.
Formazione
David Gilmour – Chitarra, basso, voce
Nick Mason – Batteria
Roger Waters – Voce
Richard Wright – Tastiere
Bob Ezrin – Tastiere
Joe Chemay – Coro
Stan Farber – Coro
Jim Haas – Coro
Bruce Johnston – Coro
John Joyce – Coro
Toni Tennille – Coro
Immagini
---
"Pink Floyd's 'The Wall': Dietro il muro" © 2011-2019 Nicola Randone. Lyrics / Artwork © 1979 Pink Floyd / Gerald Scarfe. Images from the movie © 1982 Sony Music Entertainment. E' facoltà di chi lo desidera riportare i contenuti della presente opera a patto di citare la fonte e comunque nella sola eventualità che si tratti di progetti senza finalità di lucro. Ogni uso non autorizzato dei testi sarà perseguito nei termini di legge.